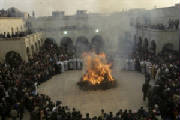 Iraqi Christians celebrate Christmas publicly now
Large populations, not by the hundreds of thousands, but by the millions, are being seeded with the message of the Gospel. And an increasing number of Afghans and Iraqis are coming to Christ. This is the real headline and story of the moment: That God's Spirit is moving through this region in a powerful way and saving lives amidst and despite the various motives of men.
Regardless of whether it was good or bad politics, both the Iraq and Aghanistan Wars, opened the door for millions to hear the Gospel. Men will aim for their goals, but God always has His goals. Edwin Louis Cole didn't directly start the Iraq War, but he played an indirect, yet significant role in world affairs through his obedience; As we all do, for better or for worse. John Donne said: "No man is an island." Of course, we could then blame Ed Cole's mother, because she gave birth to him and prayed for him to come to Christ, and then those who prayed for her growing up and trace an unbroken line of prayer all the way back to Jesus. The truth is, "the" War started in Eden and was won at Calvary. The final spiritual skirmishes continue with each heart choosing whether or not the Jew crucified on a Cross has been raised from the dead and is worthy that we should sit as His feet every day and live for Him every moment.
The world is in chaos because we are fallen; But it is an ordered chaos because the Lord is sovereign. Choose the right side. Choose Him. The weight of the Chief Cornerstone should offend and crush our hard hearts; Then raise us to new life.
"Do not think that I came to bring peace on earth. I did not come to bring peace but a sword. For I have come to 'set a man against his father, a daughter against her mother, and a daughter-in-law against her mother-in-law'; and a man's enemies will be those of his own household. Matthew 10:34-36 (The Sword of Truth is Wielded by the Prince of Peace)